Get Involved
Whale Safe depends on active users to stay informed about whale presence and speed recommendations in the Santa Barbara Channel and the San Francisco Region. Together we can work to ensure safe passage.
Daily Whale Presence Updates are also available via an Application Programming Interface (API), which allows vessels to pull data directly into their communication systems for convenient use and display. To learn more about the API, email boi-whalesafe@ucsb.edu.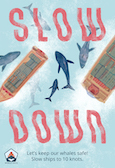 Download Computer Wallpaper
This desktop wallpaper was designed by students at the Art Center in Los Angeles, CA.