2018 and 2019 Were the Worst Years on Record for Whale-Ship Collisions off the West Coast of the United States.
Despite this trend, there are solutions to combat the problem. Research demonstrates ships that slow to 10 knots in areas with high whale presence significantly reduce the danger to whales.
Whale Safe is a technology-based mapping and analysis tool displaying whale and ship data for the Santa Barbara Channel, with the goal of helping 
to prevent fatal ship collisions with whales.
Explore the Whale Safe Tool
Today's Whale Presence: Very High*
Today's Whale Presence: Very High | August 18, 2022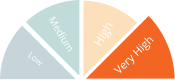 August 18, 2022
Sightings*
25 Humpback
0 Blue
0 Fin
Blue Whale Acoustic Detections
Humpback Whale Acoustic Detections
Fin Whale Acoustic Detections

Blue Whale Habitat Model
* Whale sightings data may be limited due to COVID-19.